If you want to learn how to access your DGme account, then you'll love this guide.
I used the methods I'm about to share with you to login to the DGme portal on both my computer and mobile device at work and at home.
(Note: I use Android, but the process I'm going to lay down before you also works on iOS devices, including iPhone and iPad.)
So if you're looking for reliable information you can use to access the DGme website, you've come to the right place.
But before moving on, I think there are a couple of things worth pointing out.
For starters, there are two sites where DG employees can view their pay stub information online. The first one is DGme and the second one is the Pay Stub Portal.
The Paystub Portal, which is proudly brought to you by the Money Network, provides convenient and easy access to your paystub information online 24/7. It's an excellent site that offers quick access to the information you need. But that's all it does. That's all there is to it.
Meanwhile, the DGme portal allows you to do a variety of things, including checking your pay stubs and accessing your tax forms online, plus a lot more, all in one place.
For those not familiar, DGme is an online employee portal run by Dollar General where workers can view their pay stubs, benefits, direct deposit information, and all the required tax documents for the current year, among other things. More on that just below.
As mentioned above, DGme is a lot more than simply a payroll portal for Dollar General employees. Users can also take advantage of the platform to view documents, policies, receive feedback, take part in training (also known as CBLs), submit suggestions, change their address, check on their 401k, retrieve and confirm shift schedules, request time off, connect with peers, and even find information on how to contact the HR department if need be.
With all of that being said, we generally always recommend using the DGme website instead of the Paystub Portal.
However, I think it is also worth noting that both new and current employees will usually be able to access most of the information they need through either the Paystub Portal or DGme. So ultimately, it's simply a matter of choosing which one you like best.
Also, please keep in mind that new employees and first-time users will first need to register for an account in order to access Dollar General's employee website full functionality. If you haven't done so yet, click here to begin the registration process right now.
Once you're on the registration page, all you need to do is fill out the form with your personal details, including your Employee ID, legal first name, last 4 SSN numbers, and date of birth.
After filling out the form, click "Submit" and follow the on-screen instructions to finish creating your account.
How to Sign in to your DGme account?
To access the DGme online portal, click on this link and use your user credentials to access the site. If, for some reason, the link doesn't work or you don't want to use it, you can copy and paste the following URL in a web browser window: (https://websso.dolgen.net/ssoa/default.aspx?siteid=72)
If you have a DGme email account, you can log in with your username. If you don't have an email account, then you'll have to use your Employee ID.
Enter your login ID in the Login ID field.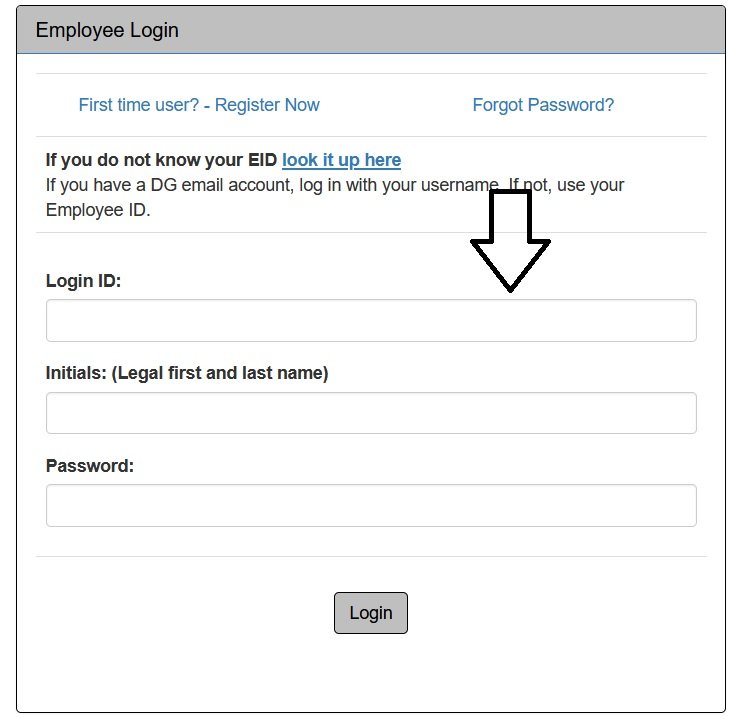 2. Now enter the initials of your legal first and last name.
3. Type your password in the Password box.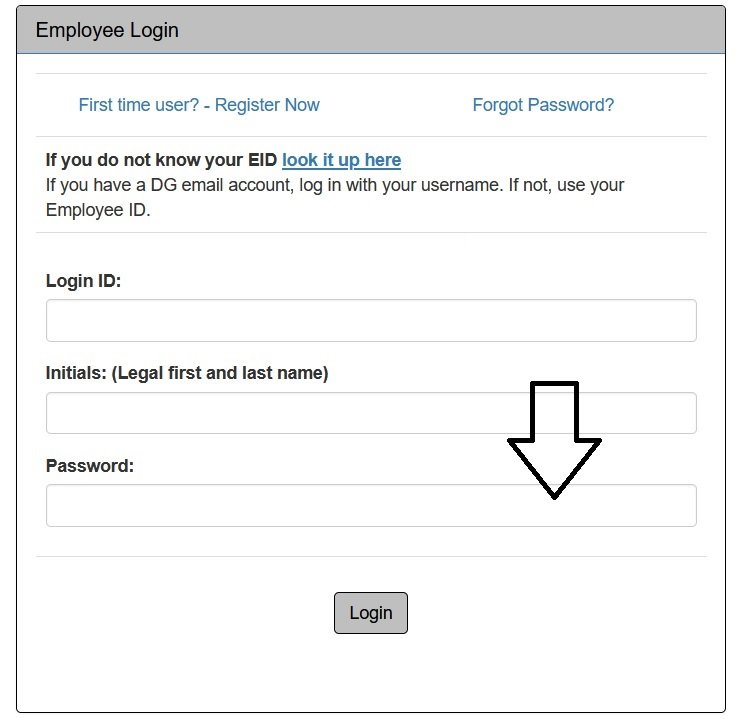 4. Click "Login."
As a reminder, if you're an existing Dollar General employee, this process can also be applied by you.
What happens if I forgot my password?
Nothing. You can get a new one by following the steps below.
Change or reset your password:
Go to the reset password page.
Enter your legal first name.
Enter your last 4 SSN numbers.
Select your date of birth from the corresponding drop-down menus.
Click "Submit" and then follow the on-screen instructions to create a new password.
I forgot my EID. Now what?
If you forgot your EID, you'll need to contact your Store Manager or Assistant Store Manager to sort it out.
Tip: If you're at the store, you can quickly find your EID on the schedule board right next to your name. It's a 7 digit number, so I'm sure you won't have problems figuring out which one is the one you need.
Other Common Problems
Some users have reported not being able to log in from home. If this is happening to you, you can try logging in with a different browser or via the Paystub Portal to look at your pay stubs and W-2's there. But remember, you'll first need to create a PIN at paystubportal.com before being able to go down this route. After creating a PIN, you can use that plus the EID or Employee Number you normally use at DGme to access the Paystub Portal as well.
Some workers have also reported having issues with DGme working on mobile. Apparently sometimes people can't click on the View button to select paystub or benefits, for example. To solve this problem, seasoned Dollar General employees recommend using desktop view on your mobile device or trying a different web browser.
Another possible solution includes heading over to the Paystub Portal to find all of your pay stubs and benefits information there.
In Google Chrome seems to always work fine, so you can just use that to avoid this issue completely.
If you keep having problems accessing DGme and none of these solutions are working out, and you keep getting messages like "Credentials Aren't Valid" or something like that, then you'll need to get in touch with the Employee Resource Center (ERC), your Store Manager or the Payroll administrator in order to get help.
Was this guide useful to you? Let us know what you think down in the comments below.
Related: