Joinpd.com is essentially a code entry platform where users simply enter a code or log in with an email address to view and interact with presentations powered by Pear Deck.
In this article, I'm going to explain how the entire joinpd.com login process works from A to Z.
As a student, you can login to a presentation in progress at Joinpd.com with one of the following three options: a five-letter Join Code, a Join Code plus an email address, or a Join Link. More on all of this below.
But before we get into the meat and potatoes of this guide, let's quickly take a look at what Pear Deck Slides is all about.
What is Pear Deck?
Pear Deck is a web-based educational application that helps teachers engage students in a more effective way and give formative assessments, no matter what grade or subject they teach.
Pear Deck is similar to Kahoot, Quizzizz and other formative assessment tools in that it provides educators with an advanced, yet easy-to-use education platform where they can assess their students' knowledge, progress and understanding of key concepts remotely in a fun and engaging way.
The beauty of Pear Deck Slides is its simplicity and ease-of-use. It takes slides created with Microsoft PowerPoint Online or Google Slides and makes them interactive with just a few clicks so that students can respond to teachers' questions or prompts right on their screens.
Imagine being able to take any Google slide you've ever made and turning it into a powerful learning experience by simply adding few interactive elements to your presentation on the fly. Just think about it. The possibilities are endless.
Not only does Pear Deck provide an ideal virtual environment for answering questions displayed on a screen, but it also offers educators the ability to create customized and interesting content that's both specific and tailored to their students' needs.
With Pear Deck, formative assessment can be performed in six different ways, including multiple-choice questions, text responses, number-only responses, drawing, dragging markers, and browsing the web. Each presentation can be made unique, and each presentation can be used to assess students' performance in a number of areas.
In short, Pear Deck along with its sister site joinpd.com, lets teachers create engaging, active learning environments where students will learn through interactive slides, informational slides, games, quizzes, and more.
Tools like this increase student engagement and provide powerful learning moments that are completely learner-centered.
How to login to Joinpd.com?
As mentioned above, Joinpd is a Pear Deck powered platform that allows you to login to a presentation using either an email address and password, or a five-letter Join Code shared by the user who created the Session.
After being invited to join a presentation, simply follow these steps to start interacting with your teachers and classmates online.
In a web browser of your choice, navigate to Joinpd.com, where you'll login by entering a user generated code, or a code followed by your email credentials, including username and password.
While students do not need to create an account to join a presentation in progress, they may need a Google or Microsoft Office 365 account to join a Pear Deck presentation if the teacher requires it in their session settings. In other words, joining a session varies depending on how the teacher sets the presentation up.
When a teacher starts a Pear Deck Session, she or he can get either a Join Link or a Join Code to share with their students. If the teacher opts for the Join Code instead of the Join Link, the student will see nothing but a search box in the center of the screen when they arrive at the joinpd.com login page. (See image below)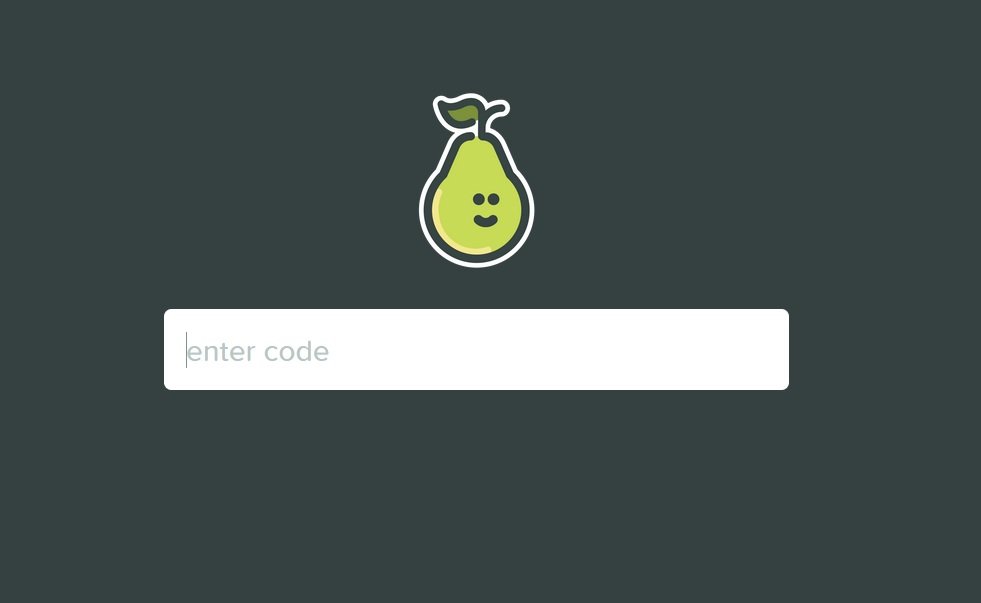 Once students arrive at the website, they'll need to enter the unique, five-letter Join Code sent by their teacher in order to login to the session and participate in the virtual class.
To better understand, let's do a quick recap of how the whole Joinpd login process works from start to finish.
The teacher starts a PD Session and gets the Join Link or a Join Code to share with their students. The student clicks on the Join Link and automatically logs in, or the student goes to joinpd.com and enters the Join Code.
If the teacher has required email login, the student will be prompted to choose their email account before joining the session. After being prompted to choose their email account, the student will need to enter their email address and password to login.
It's worth noting that virtual classes can also be accessed through mobile devices like iPad, Android Phones and iOS phones so that students can continue learning even while on the go.
Wrapping Things Up
In all honesty, Pear Deck Slides is a great assessment tool that any teacher can use to turn any presentation slide into an engaging, entertaining, and enriching learning experience for students of all ages.
The best part? It's free to use. However, you can also choose to upgrade to a premium account to get access to more advanced features that will take your students' learning to the next level.
This is how you login to a presentation on Pear Deck. If this Joinpd guide was useful for you, be sure to bookmark it or add it to your documentation. Please let us know if we can further help you in any way.