Today I'm going to show you how to log in to your Foot Locker account via Homeview or through the myfootlocker411 website.
At both Home View and the myfootlocker411 website, Foot Locker employees can find their schedule online and keep tabs on other and perhaps more important things such as paychecks, deductions, payroll taxes, and more.
As a new employee at Foot Locker, the first thing that probably comes to mind is, how is my schedule and how do I access my account to check it online?
You'll be happy to know that Foot Locker has streamlined the login process for all of its employees, and there are now two ways in which an employee can access his or her account. To find out, you'll need to ask your store manager. He or she will tell you if it's at Home Vie or at the myfootlocker411 website, and will also provide you with your login information, including ID and password.
While the store manager usually tells employees where and how to access their accounts, it's a given fact that most stores use Home View to manage employee information.
If you already know where, then by all means let us show you how.
Homeview Footlocker Login: How To Access Your Account Through The JDA Platform?
To access your Foot Locker account, you must go through the JDA Platform, which is a SaaS (software as a service) solution that allows businesses to support the individuality of their employees.
The platform is configured to display just the information that makes sense to each user, so here's where you'll find everything you need as a Footlocker employee.
Copy and paste the following URL into the address bar to access the Login page: https://homevieweu.footlocker.com/StoreView/rp/login
Type in your username and password, but don't copy them from the clipboard, because there's a chance you could copy an extra space and not be able to sign in.
Click Sign In.
How to Recover Your Foot Locker Homeview EU password:
If you forgot your password, you must ask your store manager to help you recover it. He can either help you find the old password or get you a new one.
Homeview's access page doesn't offer a way to recover your forgotten password, so asking your store manager for help is the best way to go. And in this case, it's the only way to go.
How To Access Your Account Through The myFootLocker411 Website?
If you're logging into myfootlocker411.com for the first time, this is what you need to do:
Copy and paste the following URL into the address bar of your favorite browser: https://www.myfootlocker411.com/default.ashx?CLASSNAME=PINRESET
Enter your user ID and also the email you entered in your initial registration.
Click "Submit" to receive your new temporary password.
After changing your password your temporary password for a new one, you can confidently logout knowing that your account is properly set up.
The next time you want to sign in, this is what you need to do:
Go to https://www.myfootlocker411.com
Enter your User ID, which is the same as your Employee ID, and your password.
Click Submit or the Sign In button in case you're accessing from a personal computer at home.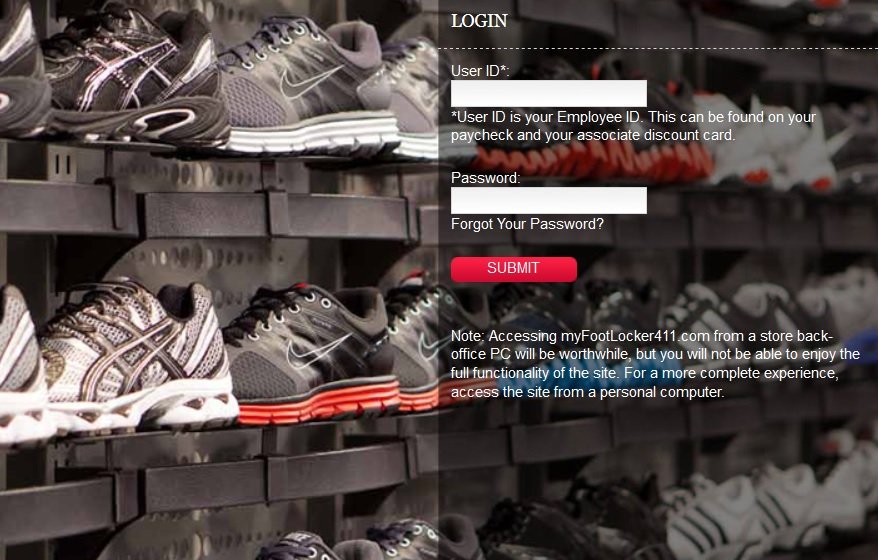 The company says that accessing myFootLocker411.com from a store back-office PC will be worthwhile, but you'll not be able to enjoy the full functionality of the site. According to Foot Locker, you should access the site from a personal computer for a more complete experience.
How to Recover Your myFootLocker411 Password:
Go to the login page and click on the "Can't access your account?" link.
Select "Work or school account created by your IT department."
Type in your User ID.
Then enter the characters in the picture or the words in the audio.
Click "Next" and follow the prompts.
Did you find this tutorial useful? Let us know in the comments below.