TM Menards login information for employees looking to get the most out of their work life.
TM Menards is an employee portal that allows Menards Team Members to view their health benefits, past payslips, work schedules, manage their personal information and even apply for career changes.
It also provides convenient access to company information, resources, and news to help employees more easily navigate their workplace, as well as the sometimes complex process of requesting workplace accommodations.
The best part? The TM Menards employee portal can be accessed from anywhere as long as you have an internet-enabled device and a compatible web browser.
TM Menards Login
How do I log into my TM Menards account?
To access the TM Menards employee portal, this is what you need to do:
1. Go to the TM Menards employee login page at TM.Menard-Inc.com and you'll see a typical sign in form on the left side of your screen.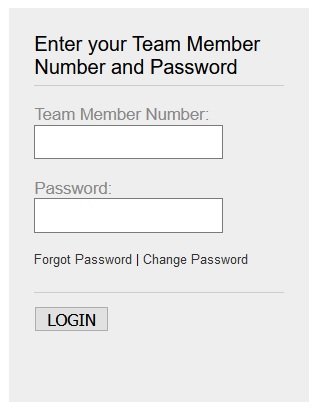 2. Type in your Team Member Number in the first field.
3. Enter your password in the second field.
4. Now click the "Login" button.
It's worth noting that the password is case-sensitive, so make sure to check that you are correctly using the lowercase or uppercase version of any letters.
As a Store Team Member, if you have problems logging, you'll need to contact your HR Coordinator or General Manager to let them know what's going.
Meanwhile, all other Menards Team Members having issues accessing their account will need to contact their Payroll Administrator for help.
However, before contacting your General Manager or Payroll Administrator, you can try to change your current password or get a new one by following the steps below.
How to Reset TM Menards Password?
On the TM Menards employee login page, you'll see a link under login area that says "Forgot Password" which you can click on to send reset instructions to your email address. Simply enter your Team Member Number in the field and click "Submit."
You can also go directly to the Forgot Password page by copying and pasting the following URL into the address bar of your web browser: https://tm.menard-inc.com/TeamMemberPortal/forgotPassword.do
You will receive an email that contains a link for you to click on that will ask you to create a new password. Once you've created your new password, you'll be able to return to the TM Menards login page immediately to sign in.
Tip: If you can't find the email in your inbox, try checking your junk or spam folders, as it may have been moved there.
How to Change TM Menards Password?
If you want to change the password that you're currently using to access the Menards Team Member Portal, you have several options. You can go to employee login page and click on "Change Password" link located next to the "Forgot Password" link mentioned in the previous section.
You can also access the "Change Password" page by entering the following URL in your web browser: https://tm.menard-inc.com/TeamMemberPortal/changePasswordUnauthenticated.do
To change your password, you'll need to enter your Team Member Number and the password that you're currently using before you can create a new one.
Enter your password and then enter the new password you would like to have below it. Your new password must be seven or more characters long and contain a combination of at least three of the following four character types:
Lowercase letters
Uppercase letters
Numbers
Symbols
Once you've entered all the required information, click the "Save" button located below the form.
How to Create a TM Menards Account?
You cannot sign up for an account through the TM Menards employee portal.
The TM Menards website does have a registration form, like the ones you're used to seeing all over the web.
In short, to get a TM Menards account you must first get a job at Menards. Accounts are automatically created when a new hire starts at the organization.
As a current employee, you can access the TM Menards portal using your Team Member Number and password.
The aforementioned information will be provided as soon as you join the company, so make sure to ask your General Manager, HR Coordinator, or Payroll Administrator for it before trying to log in for the first time.
Did you find this guide useful? Please let us know in the comments below.